Sunday
Ansel shares a picture of Nat Wolff "doing his photoshoot" for TFIOS
Ansel also continues on his quest to make us all fall in love with him and his excitement for the role!
Ben Richardson posted a picture of his alarm!
Andrew Sims from Hypable tweeted about visiting the set!
Deb (@cameragirlpgh): @realjohngreen

Keeping track of ALL cameras on set today :-)

#NoCameraAmberAlertToday
Beth (@bethbadass), a Support Group Member, shared this picture of the Support Group with John, Shailene and Nat.
John shared a similar picture.
John shared this picture of Henry, his son, on set. He was able to witness movie magic the same way his dad has been doing for the past six weeks. Adorable.
Henry enjoys watching the
#tfiosmovie
too!
The Teen.com TFIOS set visit giveaway winner shared two pictures of her trip.
@realjohngreen so nice meeting you yesterday! You are truly an inspiration,I hope Kate gets to meet you soon! @teen
-----------------------------------------
Multiple news outlets are also visiting the set today. Here are some tweets of the people on set!
Tuesday
Excellent morning massage from
@primerimejr1
, whose leg is playing Gus's leg in the
#tfiosmovie
.
John also shared a picture of another support group member. Meet Joshua.
On the
#tfiosmovie
set with
@joshuapotter17
. I've had so much fun hanging out with everyone from our fictional support group.
The Literal Heart of Jesus support group extras wrapped today.
Cinematographer Ben shared his notes on shooting the support group scenes. I guess cinematography is more complicated than just pointing the camera and pressing record lol.
Today was also Tanner's last day on set.
Nat, Ansel, Ben and Ansel's brother, Warren played pool to unwind from a day of filming.
Meanwhile, John, Sarah, Wyck and Mike Birbiglia attended the Pirates' first playoff game.
W
Let's go Pirates! Got tickets to the 1-game playoff. Living the dream with
@swusug
.
#tfiosmovie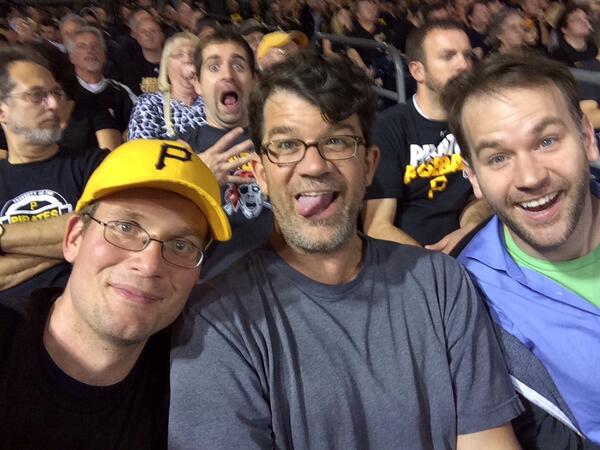 Also best photobomb lol RT @realjohngreen: BUCTOBER! Sorry I am really into this. Pirates up 5-1 in the sixth.
Wednesday
It's onesie Wednesday on the
#tfiosmovie
set and
@intheklutch
is all in. He's even doing the voice.